Step 1 : Visit our website and browse products
Step 2 : Select your favorite flower / color / options / quantity and click "ADD TO CART". Please note that our minimum order quantity is 20 pieces per color and 100 pieces per design. You may click "VIEW CART" to see your order.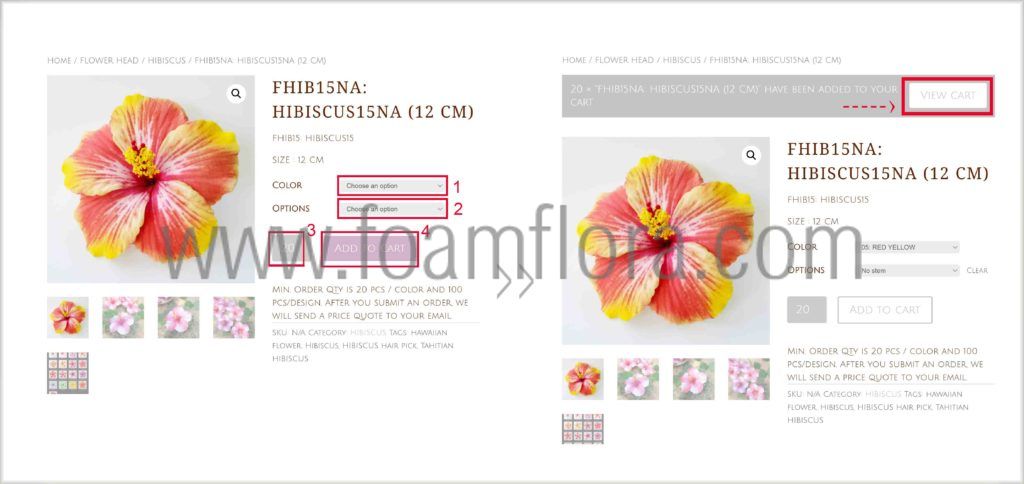 Step 3 : Review your order (adjust if necessary) and click "PROCEED TO CHECKOUT". Fill your billing and delivery details and click "PLACE ORDER".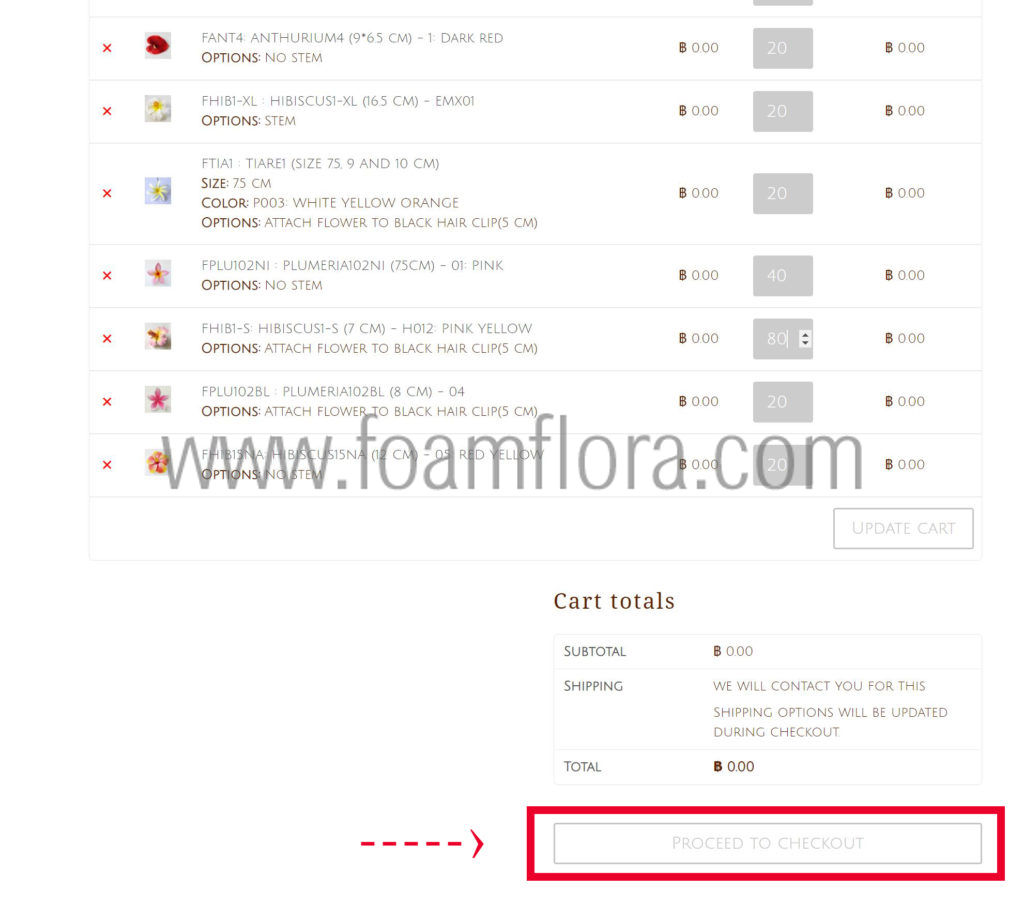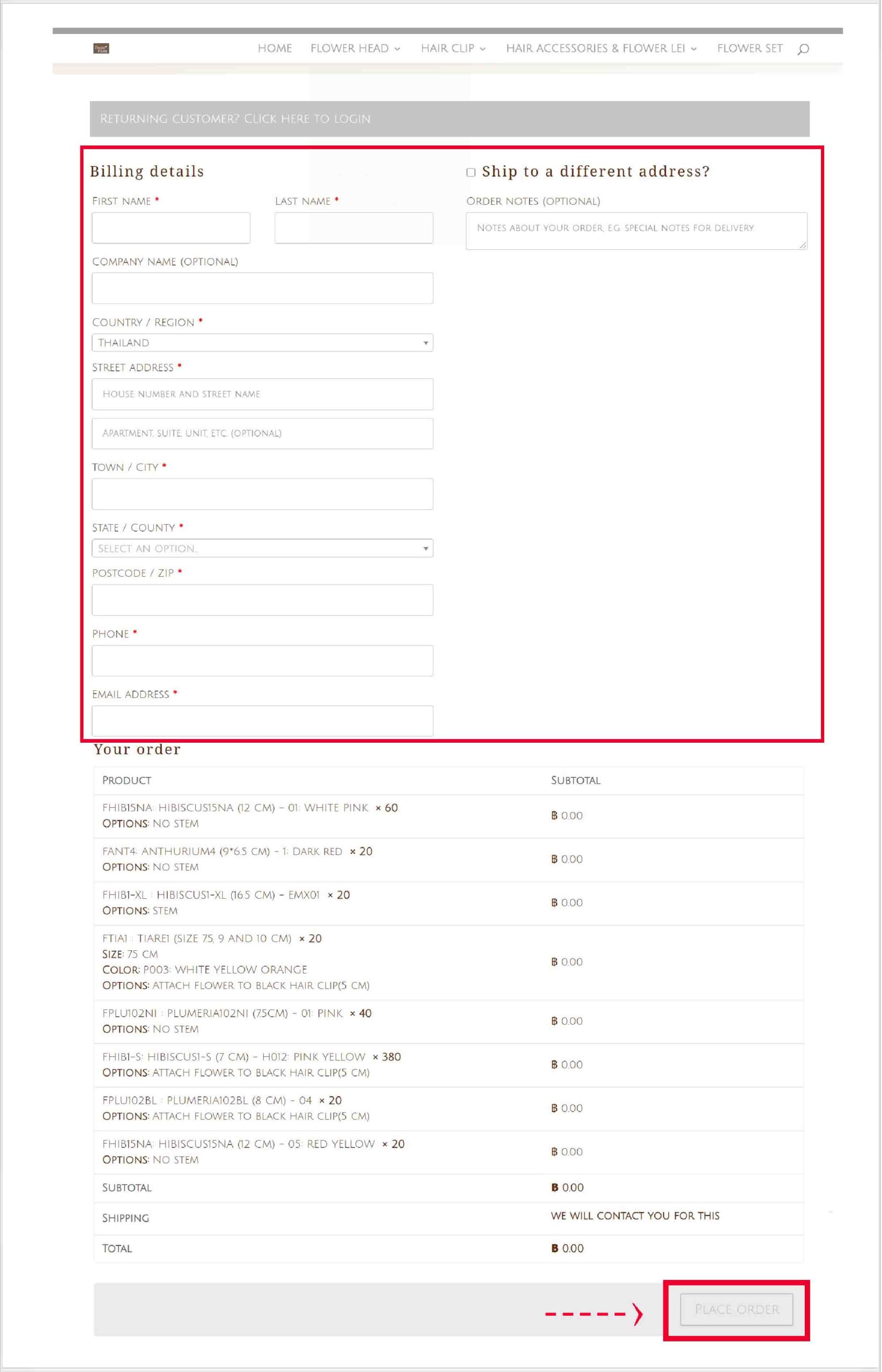 Step 4 : You will receive a price quotation email within the next business day. If not, please check your Junk mail and Spam folder or inform us directly by sending message to Facebook Messenger or WhatsApp Chat.
Step 5 : Confirm or adjust order.  If you have any questions or special request, please feel free to let us know.
Step 6 : Make payment by T/T or PayPal and send transfer document to us. Once receiving your payment, we will start production process.
Step 7 : Please allow 2-5 weeks for production and 1-3 weeks for shipping time. We will send the order to your address and inform you a tracking number once shipping.
Method of payment
Cash, T/T (wire transfer) or Paypal (4.5% additional charge). After payment, please send us your transfer document to enable us to trace the funds. For T/T, the process of transferring money may take about 2-7 business days to complete.
Production Time
Our production time takes around 2-8 weeks after receiving your payment. We will inform you individually what specific production time can be expected. However during raining season, due to high humidity, it can affect the production time of artificial flowers, sometimes considerably.
In urgent cases, please do inform us of possible trade shows, etc, that depend on this particular order. We will then do our best to give it priority.
Packing

Unless otherwise requested, we do the packing at our com
pany, in our standard boxes. The advantage is that we can pack properly with the experience that we have with our own goods and can also estimate the volume of a shipment in advance. This helps to estimate shipping costs. Please see details of packing for each item in price list. For special packing, we will consider your request and charge you for additional costs.  
Shipment
We take care of all shipping requirement :
• Small orders can be handled via Thailand Courier Post with tracking number or EMS. The shipping time takes around 5-14 business days to worldwide. However, if you prefer other carrier services like FedEx, DHL, TNT or other shipping companies, we could arrange the shipment as per your request.
Destination

Estimated Shipping Time

by Thailand Courier Post

• Japan / Korea

3-10 business days

• Singapore / Taiwan

3-7 business days

• Australia / New Zealand / Middle East

5-14 business days

• North America / Europe

5-14 business days
• Large orders via freight forwarders:
Average time for transportation depends largely on the final destination of the shipment, and the method of transport employed. Goods traveling by air usually take 5-14 days to reach their destination. Cargo shipped by sea takes significantly longer, with the actual times varying depending on the distance of the journey. 
These times are from port to port only, and do not include processing time spent clearing customs on departure from Thailand, or on arrival to customs department of each country.